About the Bartolomei brothers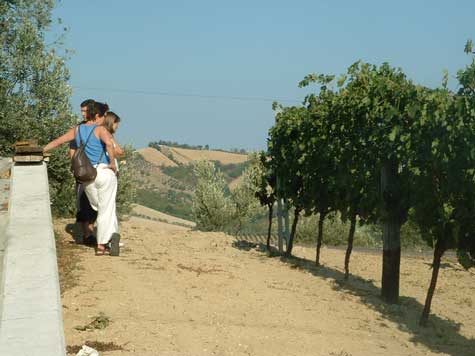 The province of "Ascoli Piceno" is the most southern part of the Marches, "Marche" in Italian. The typical wines of the region are the white Falerio and the red Rosso Piceno. The region suffers from a low esteem and has difficulties to get rid of its image. Apart from the Verdicchio, Marche wines are little known outside of Italy anyway.
The wine farm "Ciù Ciù" (to be pronounced: "choochoo") exists since 1970 and thanks its name to the nickname of one of the forebears of the Bartolomei family. Since a number of years, Massimiliano and Walter Bartolomei have chosen for a quality approach without compromise: low yields, integrated agriculture, a rigourous selection of grapes and modern cellar techniques. Everything is done for the wines to be a perfect expression of the grapes and the terroir. No "international" style here (although some experiments have been undertaken), but extremely ripe and powerful wines that excel in personality and expression.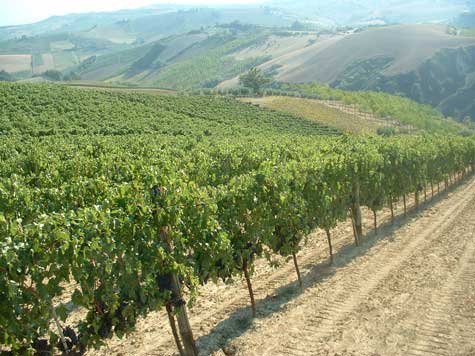 The wines of the Azienda Vitivinicola Ciù Ciù
Falerio "Oris"
Since more or less ten years, a couple of local and almost forgotten white varieties have been rediscovered and revalued: the Passerina and the Pecorino, of which the last one has been reput into production only very recently. Together with the Trebbiano grape they constitute the assemblage for this "Falerio", that owes its floral aroma to the first grape (Passerina), and its juicy freshness to the second one (Pecorino).
A very floral nose indeed, complemented by ananas and nuts. A flavour of pistache, supported by fresh and balanced acids. Given its robustness this wine is rather to be drunk with a meal than as an aperitif. Attractive price.
Rosso Piceno Superiore "Gotico"
75% Montepulciano, 25% Sangiovese. Dat uit zich in de eerste plaats al in de zeer dichte, donkere kleur. A very profound aroma, a bit dusty, even rocky (sic), a scent of ripe plums and herbs such as mint and lavender. Flavour is soft and full, with a finish of silky, granular tannins which nevertheless show their teeth after a while. Warm and balanced, with a long and pleasant finish.
A solid wine (14° of alcohol) and a bargain in its class.
Marche Rosso "Saggio"
100% Sangiovese. Sangiovese in sua purezza. As far as we are concerned a fabulous discovery: this wine has completely blown us away!
Colour is a mildly evolved red. The nose is perplexing in its complexity and layered sophistication: leather, charcoal, plums, blackberries and while waltzing more and more intense aromas seem to emerge: eucalyptus, thime, juniper. Flavour is fleshy and expresses in a wonderful way the subtleties of the Sangiovese grape: coffee, mocca, woodberries, cassis. A finish of firm but noble tannins. Complete amazement when you hear that this wine has ripened for 100% on inox tanks. Despite the 14,5° of alcohol an enormously refined and drinkable wine!
Marche Rosso "Oppidum"
100% Montepulciano. Montepulciano in sua purezza. A very dense dark purple. A cloudy aroma, again a bit dusty, reminds one of old carpets (sic), moreover lots of herbs: lorberry, thime, rosemary, roses, lavender. While waltzing some leather appears. Flavour is enormously concentrated and granular with firm and silky tannins, a bit of graphite and very jammy blackberries and black cherries.
Again very powerful (14,5° of alcohol), but we are familiar now with the house style...