About Birgit Eichinger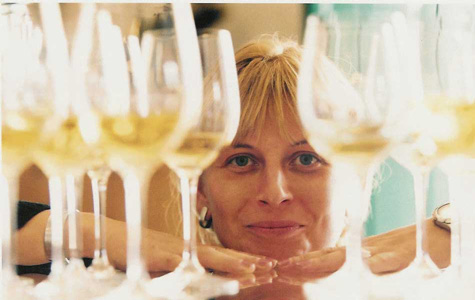 Birgit Eichinger is one of the fore runners of a new generation of Austrian wine makers.
Started with a few acres of her father's farm in 1992, the "Weingut" now counts 8 acres, located on the most famous wine mountains in the Kamptal (among which the Heiligenstein).
The Kamptal may be less known than the nearby Wachau, thanks to its unique soil, consisting of primeval rock and löss, it produces uncomparable, mineral Veltliners. Furthermore the yields of the Eichinger farm are very low (30 hectolitres per acre for the wines we are offering), which contributes to the density and subtle power of the wines. The wines we are offering have been ripened in inox barrels.
Mrs. Eichinger participates in the experiments of the wine collective "Vinovative", which is continually searching for innovating techniques, and she is a member of the group "11 Frauen und Ihre Weine", which wants to draw attention to the numerous female wine makers in Austria.
More than half of the production of the house is destined for export to Europe and North-America.
The wines of the Weingut Eichinger
Roter Veltliner Wechselberg
Although nobody is absolutely sure, the Roter Veltliner may effectively be genetically related to its famous brother (or sister), the Grüner Veltliner. Anyway the grape is characterized by its full body and spice. A spicy nose of ripe mellon. A full-bodied, ripe flavour dominated by sophisticated acids. A very versatile wine, with an impeccable concentration, that is a fine companion to a wide range of dishes.
Grüner Veltliner Gaisberg
This is the most mineral and sophisticated of the Grüner Veltliners made by the Weingut Eichinger, coming from the unique terroir of the Gaisberg (close to the famous Heiligenstein mountain). Colour is a greeny yellow. A nose of mountain herbs, thime, mint, honey, even cream. A flavour dominated by beautiful and soft acids bringing on fruit like mango, small prunes, mint and a tickle of kumquats. Surprisingly concentrated (not if you know that the yield is a meagre 30 hectolitres per acre!). A super white with an enormous potential.
Prize
On the occasion of the "Wine World Awards" of the British wine magazine "Decanter" (October 2005), Birgit Eichinger has won "International Riesling Trophy" for her Riesling Heiligenstein 2003. She triumphed over strong competition coming from the Alsace, Germany, Australia and the United States. Once more a proof of the extraordinary quality of the wines of the estate.