About Georg Ramoser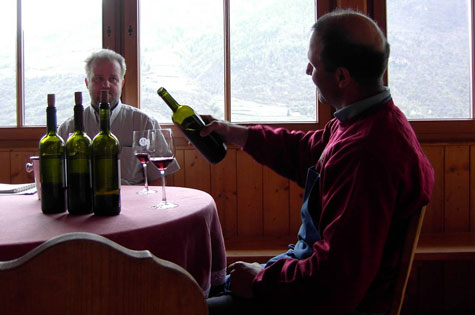 He may be firmly rooted in tradition, yet Georg Ramoser is one of the most progressive wine makers in South Tyrol. Being a real professional, his prime concern is to offer good value for money. Operating at a rather small scale (4 acres of vineyards), he is enthusiastically experimenting with varieties as Merlot and Chardonnay, already (or almost?) traditional grapes in South Tyrol. Most recognition comes his way for the Lagrein Riserva, a wine that gets high scores in the Italian wine guides.
Despite the success of the Lagreins, he is perhaps even prouder of his Sankt-Magdalener, for which interest is steadily growing in Italy. Once an almost sweet and superficial table wine, this has now become, thanks to (among others) Georg Ramoser, an intensily fruity and solidly structured connoisseur wine.
Next to the vineyards surrounding the "Untermoserhof" in Sankt-Magdalena, a tiny little village behind the hill from the big city Bozen, Ramoser has a piece of land in Eppan-Berg, along the "Südtiroler Weinstrasse". There he grows the Chardonnay and Merlot in a very dense clay soil.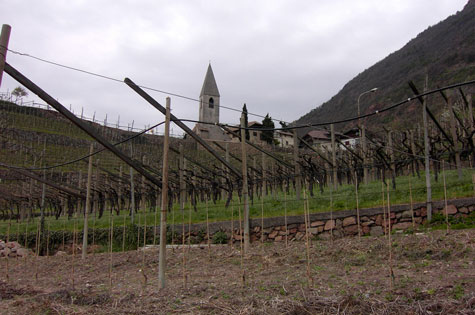 The wines of Georg Ramoser
Sankt-Magdalener Klassisch
Vernatsch (Schiava in Italian) is the most common of the native Tyrolean grapes and the basis of many simple table wines. The St-Magdalener has always been one of the best known Vernatsch products, and lately the wine has been revigorated by quality driven producers such as Georg Ramoser. The "Magdalener" is a light, fruity and very dry red wine (97% Vernatsch, 3% Lagrein), albeit solidly structured due to a 6 months stay in wooden barrels. "Klassisch" means that the wine originates from a very limited region in the surroundings of Bozen. Being a very versatile wine, it makes a fine companion to meat as well as fish and, in the latter case, can be served chilled.
Chardonnay
Georg Ramoser is not an amateur of "oaky" wines, so it does not really come as a surprise that this very floral and fruity Chardonnay has been ripened on oak for only 5%. A perfect example of a typical Tyrolean Chardonnay: despite the concentrated fruit the wine remains very "sec" and slim. (Exhausted, 02/11/2004.)
Lagrein
The Lagrein is an ancient native grape producing a dark and dense wine, with an intense aroma of cocoa. The grapes for the Lagrein "Normal" are growing in the flatter vineyards below the "Untermoserhof". In Bozen, as in the rest of Europe, the summer of 2003 was extremely hot, much to the benefit of the Lagrein grape, the heat being its favorite weather condition. The wine has ripened on big wooden barrels during 6 months. A nose of mocca and blueberries, even a hint of black truffles. The taste is very rich and fruity, mocca reigns but with abundant softness and roundness. With ageing the wine develops a tertiary, say animal fragrance. Just like the Sankt-Magdalener this is a unique product, difficult to compare with other wines.
Lagrein Riserva
The grapes used for the Lagrein Riserva come from the oldest vines growing on the steep slopes around the "Untermoserhof". A "Riserva" ripens for 2 years on oak barrels, resulting in a wine that bursts with character and fruit. An almost impermeable purple color; a nose of mocca and blackberries. Taste is concentrated, with fresh and soft tannins, and a bitter-sweet finish, typical for the Lagrein. "Due bicchieri" in the Gambero Rosso 2004.
Merlot Riserva
Merlot is at its best in a dense soil of sand or loam (or clay). The loam soil of Eppan-Berg, where Ramoser grows his Merlot, is so thick that you can hardly dig in it.
The Merlot is a very ripe and rich wine. A nose of tobacco and blackberries, a beautifully structured flavour, soft tannins and a very long and wonderful finish. Very drinkable, and "due bicchieri" in the Gambero Rosso 2004.
According to the German wine writer Jens Priewe, Ramoser's Merlot is to be counted among the best of Southtyrol. In his latest book he mentions South Tyrol as one of the most interesting regions for growing of Merlot. Ergo?